Sonihull makes a big impact at SMI
"We can save the industry at least 160 million tonnes of CO2
What's more, we can do it right now"
This was the bold statement from Darren Rowlands, Director of Sonihull, at SMI 2022. The Society of Maritime Industries annual conference was staged at the Gateshead Sage in Newcastle upon Tyne this week. Sonihull appeared as a Gold Sponsor of the event, along with, among others, Babcock, Kongsberg, Lloyd's Register and Rolls Royce.
"Our fit-and-forget technology removes the need for poisonous chemicals and is transforming the way that maritime sectors are approaching antifouling," said Rowlands, adding: "Taking propellers in isolation, it has been estimated that if Sonihull prop-protection systems were fitted on every commercial vessel in the world, global ship emissions would be reduced by between 160 and 408 million tonnes of CO2 every year."
Sonihull was exhibiting its antifouling technology, that uses the power of ultrasound to keep surfaces clear of algae, weeds and barnacles. Having clean surfaces reduces drag, fuel burn, CO2 emissions, and maintenance costs. As well as taking a huge step towards carbon neutrality, Sonihull's technology can also save up to 90% of the lifetime maintenance costs of traditional antifouling systems and all with zero environmental impact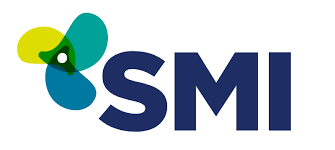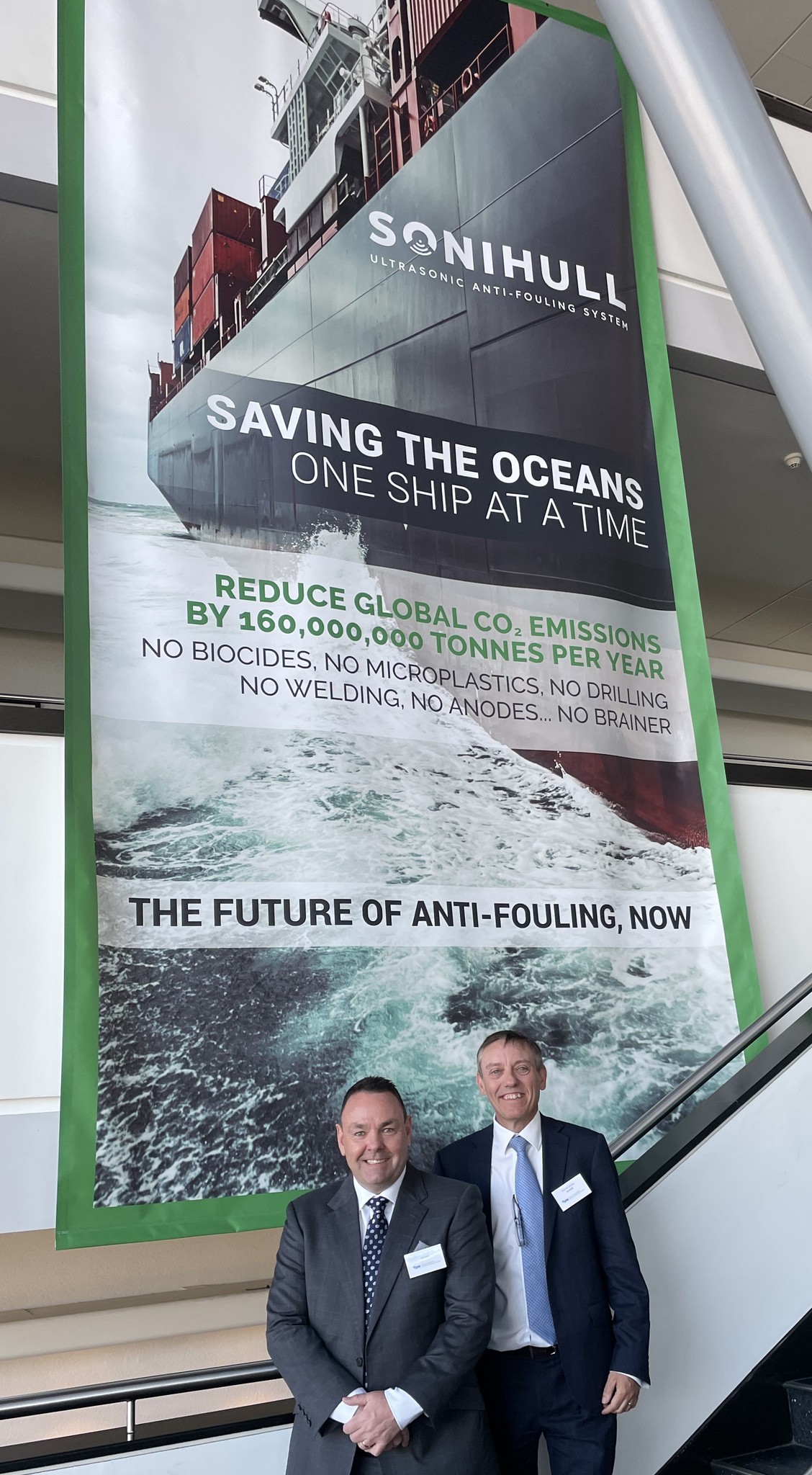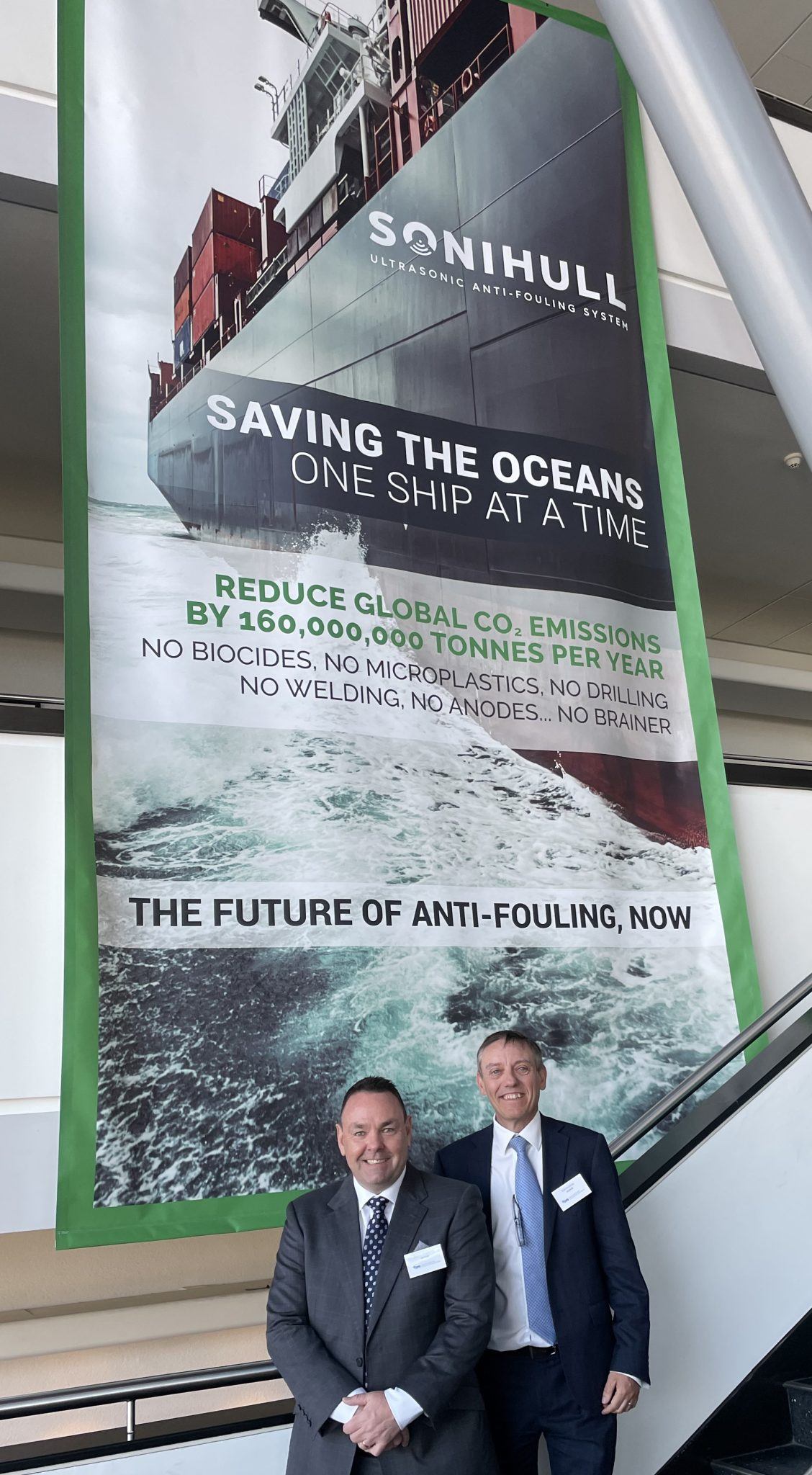 "With fuel-savings alone in large ships, the prop protection systems are paying for themselves within weeks. Even before factoring-in the reduced prop-polishing and maintenance schedules. Our systems are networkable and can be used to protect stationary structures like wind farms and oil rigs too."
The conference, which took place over two days, had a packed roster of speakers from Government, regulators, and industry insiders, all looking to explore the opportunities for collaboration in decarbonising maritime and offshore renewable energy.
Background
The business of antifouling (the process of keeping unwanted marine growth off manmade structures in water) is estimated to cost the shipping industry $100 billion annually in drydocking, cleaning, disposal and repainting costs. Currently, about 95% of ships still rely on the use of toxic biocides to keep their hulls and cooling systems clean, but these leave a poisonous legacy in the oceans. By contrast, Sonihull systems can save up to 90% of the lifetime costs of traditional antifouling methods and all with zero environmental impact.
Based in Coventry, Sonihull has developed an industry-leading ultrasound technology that safely prevents marine algae, weeds, and molluscs from colonising ocean-going vessels and structures like ships, oil rigs and wind farms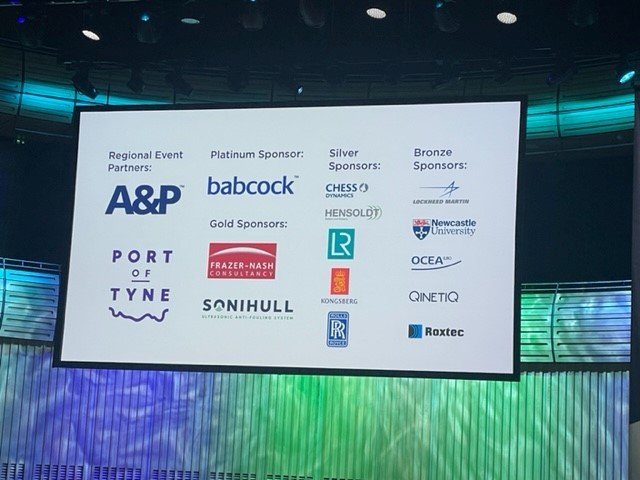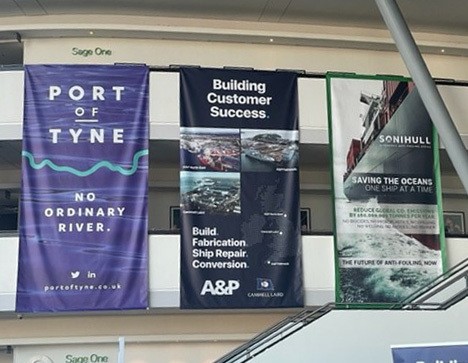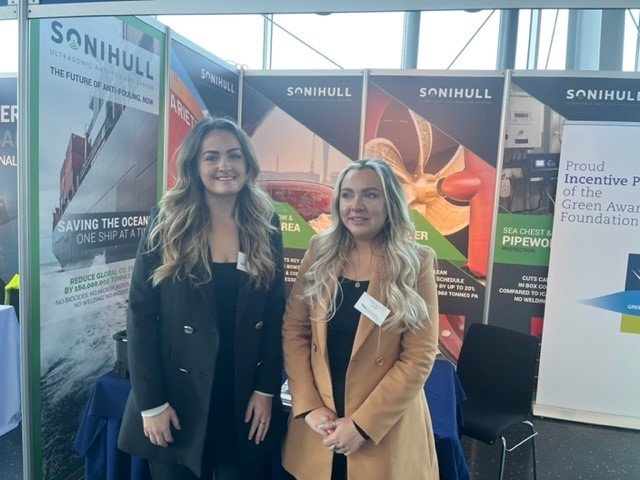 Sonihull can protect any solid surface that is exposed to raw seawater. In Box Coolers (the ship equivalent of a car engine radiator) its systems are already saving up to 90% of capital and MRO costs compared to traditional Impressed Current Anti-fouling (ICAF) systems. Other areas that benefit from keeping clean without the need for drydocking or underwater polishing, include propellers, hulls, bulbous bows, fin stabilisers, and stern gear.
Currently, 95% of all antifouling systems rely on the release of toxins into the environment – this is not environmentally sustainable. The clock is ticking because the IMO [International Maritime Organisation, the world's maritime regulatory body] is legislating towards 'zero harm' solutions. Sonihull's technology uses zero biocides; zero poisons are leached into the oceans; zero microplastics are shed from ablative coatings. Sonihull is also inaudible to marine mammals and fish.
Sonihull's mission is to deliver environmentally safe, cost effective antifouling wherever unwanted bio-fouling persists. Our vision is:
To make dosing the oceans with poisonous biocides and microplastics a thing of the past
To deliver effective antifouling systems using the power of ultrasound
To save the oceans, one ship at a time