The net result: Game Changing Tech
Sonihull and Cage CTRL reveal "partnership that will revolutionise the commercial aquaculture market" at Nor-Shipping 2022, Oslo
In a bold return to large commercial shipping exhibitions, Sonihull has chosen Nor-Shipping to reveal details of a joint venture with Norwegian company Cage CTRL. The venture has developed a new application of Sonihull's technology, which is set to revolutionise commercial fish farming.
Cage CTRL has combined Sonihull's world-leading ultrasonic antifouling technology with a proprietary net construction design, to create a net protection system that brings a host of game-changing benefits for commercial fish farmers.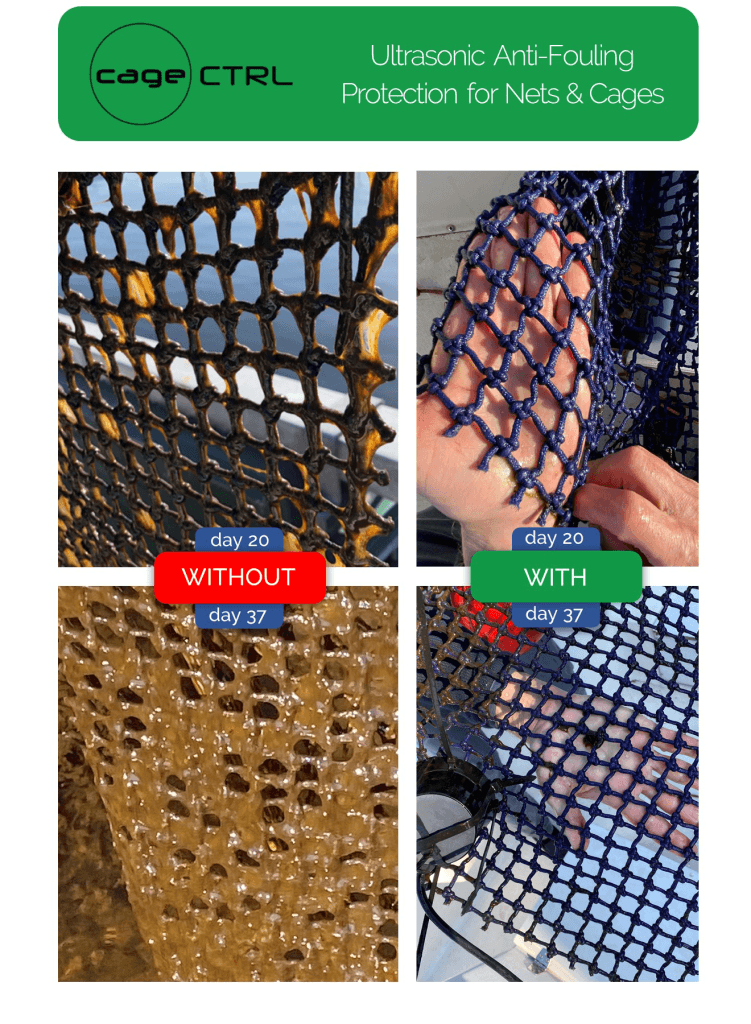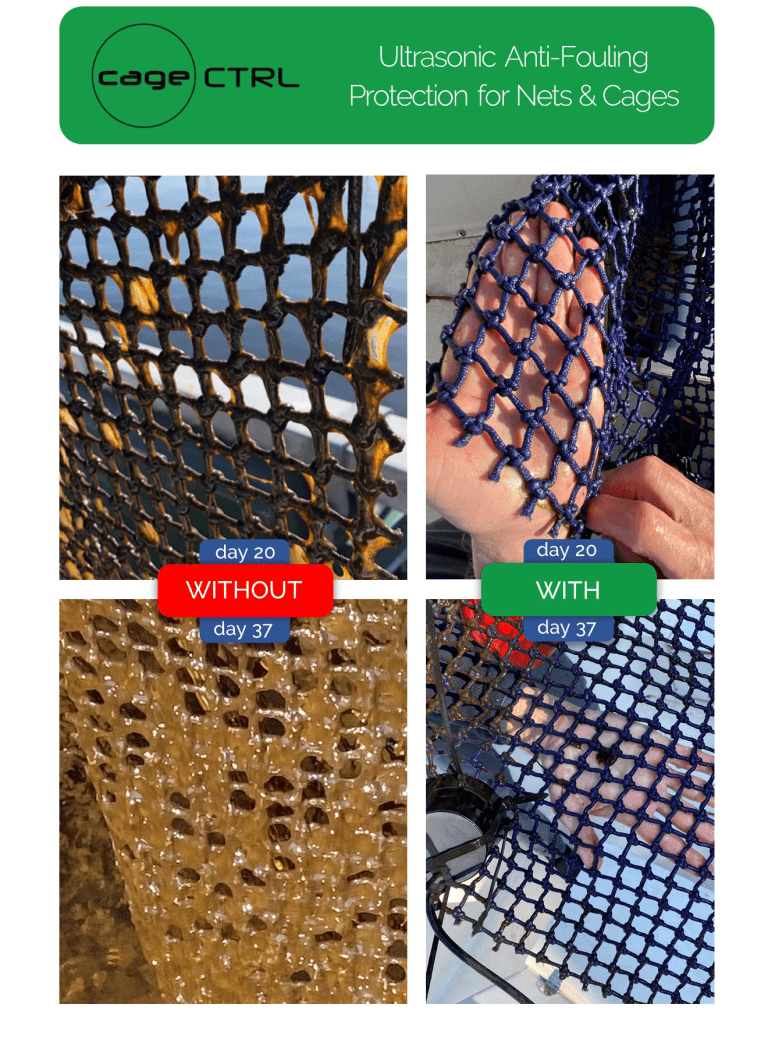 Traditional fish containment systems rely on very regular net-cleaning regimes to prevent biofouling settling on the nets. The cleaning is time-consuming and increases the wear and tear on the nets.
Cage CTRL's solution successfully inhibits net colonisation by algae and weeds, through a process of ultrasound induced non-inertial cavitation.
The process is inaudible to fish, humans and marine mammals. Low-power waterproof transducers transmit ultrasonic pulses throughout the net structure. The pulses have a microscopic cleansing effect that disrupts algae and the early stages of bio-film, preventing colonisation by net-clogging weeds.
A cleaner net maintains the flow of fresh water through the pens and increases fish welfare and yields with reduced chemical and medical intervention. Simultaneously, stock losses, net-cleaning and maintenance are all dramatically reduced. The reduced levels of weed growth and removal also reduces the impact on the seabed from cage fallout.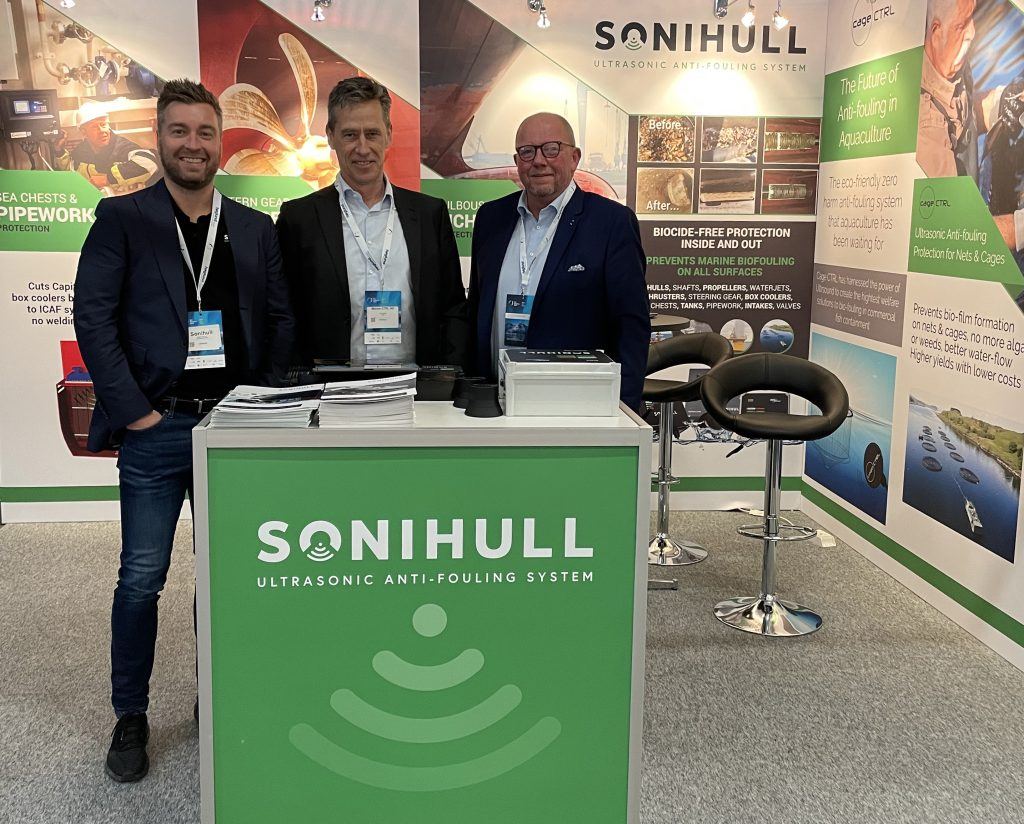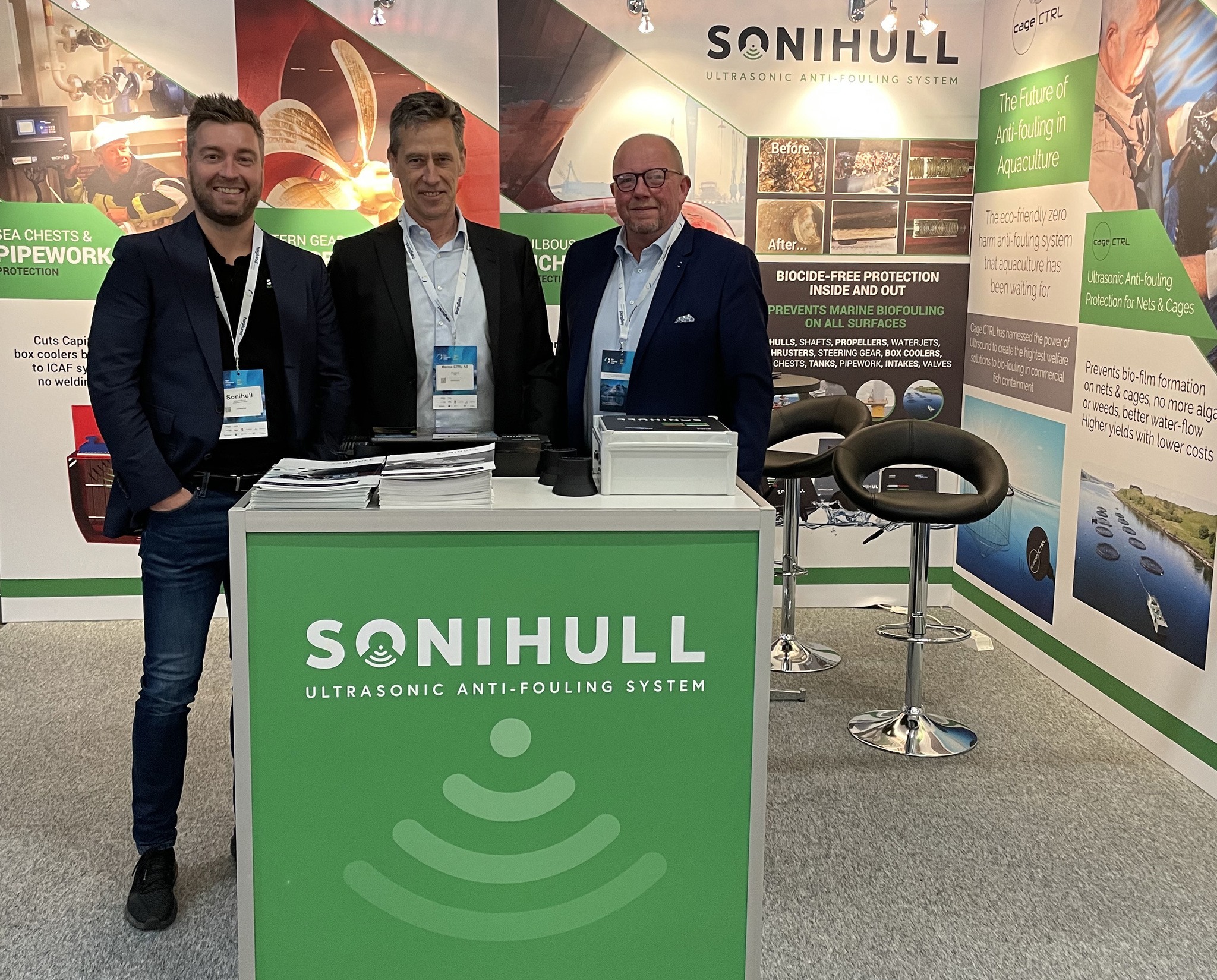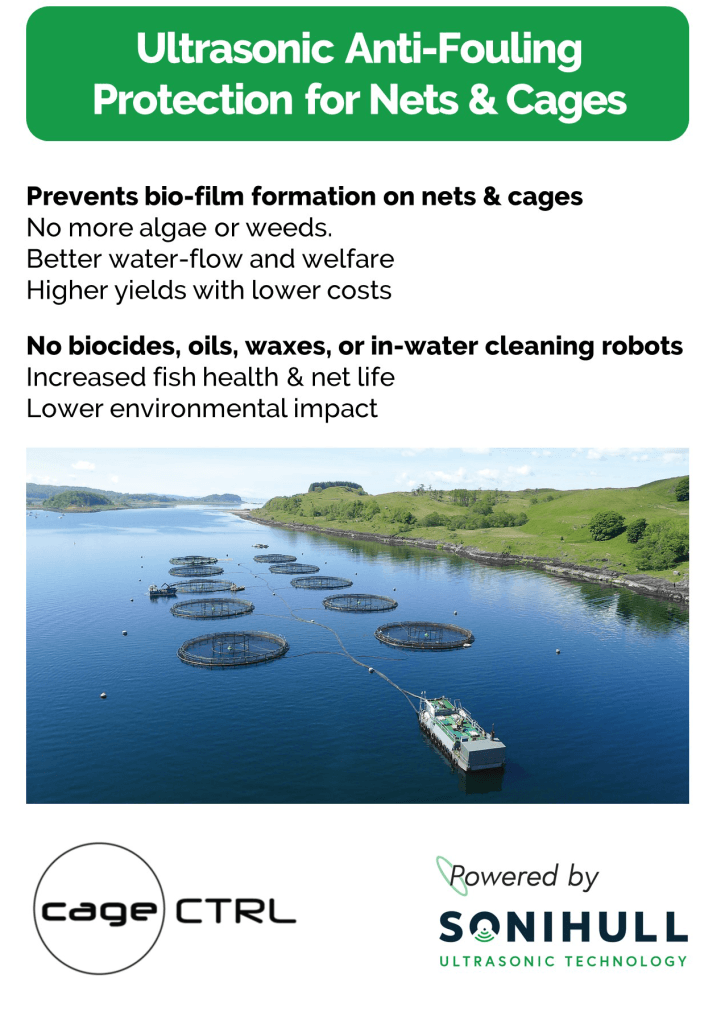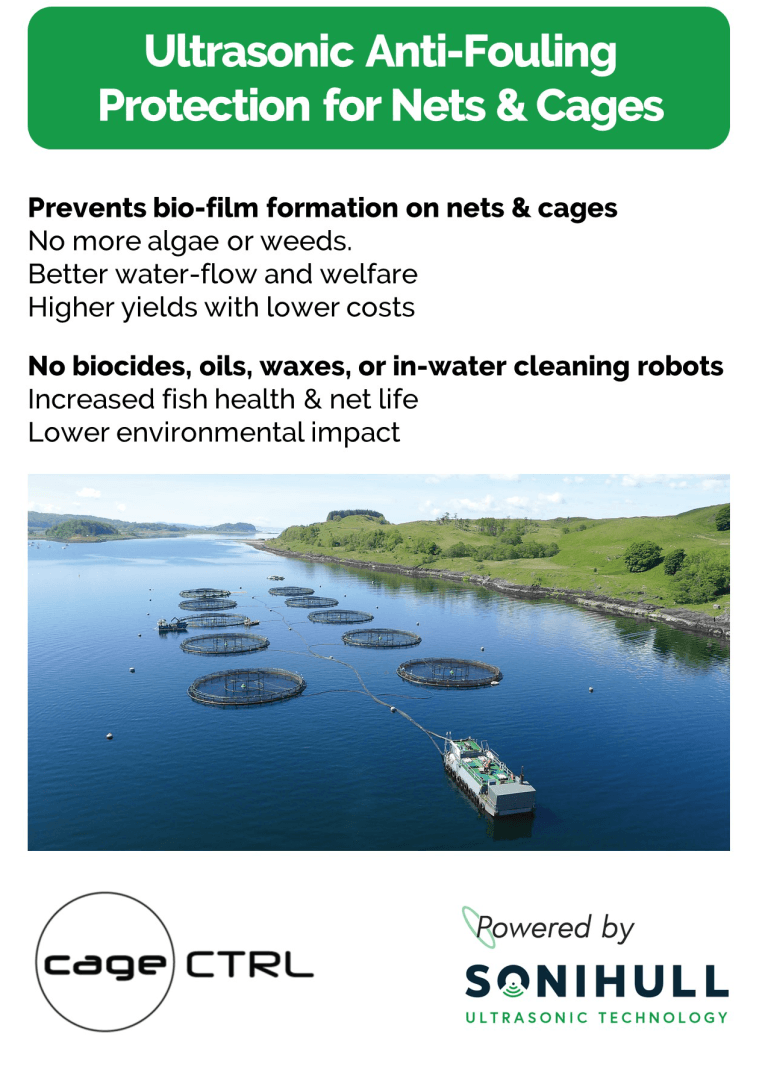 ---
Nor-Shipping 2022 – Event Background
Hailed as 'Your Arena for Ocean Solutions', the long-awaited Nor-Shipping took place between 4-7 April, and was the first major international gathering of maritime and ocean industry leaders since the global pandemic began.
After almost three years of waiting, Nor-Shipping finally opened its doors again. With key industry decision-makers descending upon Oslo and Lillestrøm to connect, share knowledge, discover new technologies and build partnerships to tackle the opportunities and challenges facing maritime industries.
Nor-Shipping is also dedicated to developing the next generation of ocean talent. The Young@Nor-Shipping 2022 initiative, is a three-day activity programme tailored to address one of maritime sector's greatest challenges: decarbonisation.
The industry body, which supports professionals under the age of 40, ran Emission:Impossible? A series of networking and knowledge-sharing events to create an arena where young and experienced professionals from the industry can meet and connect during the festival week.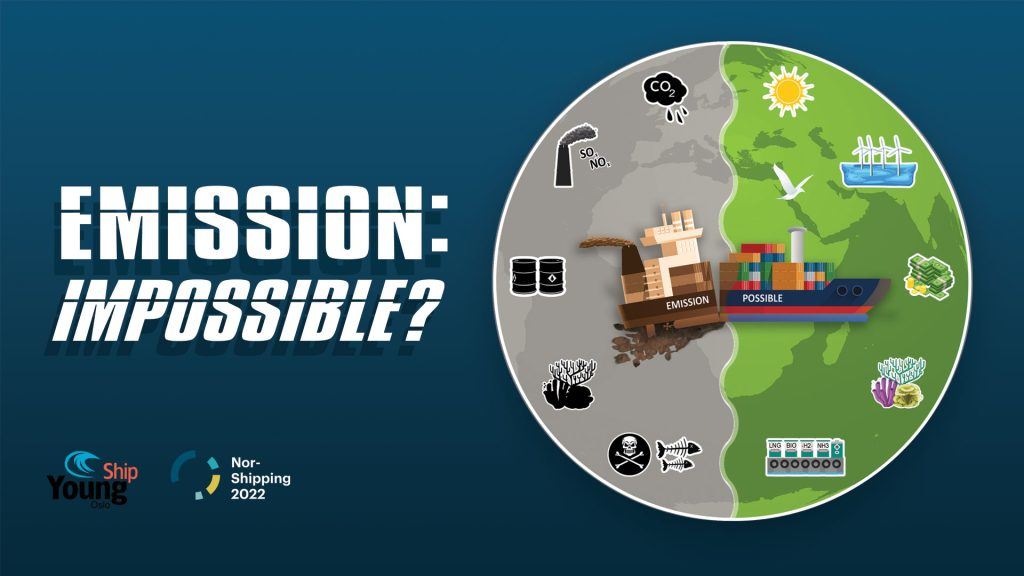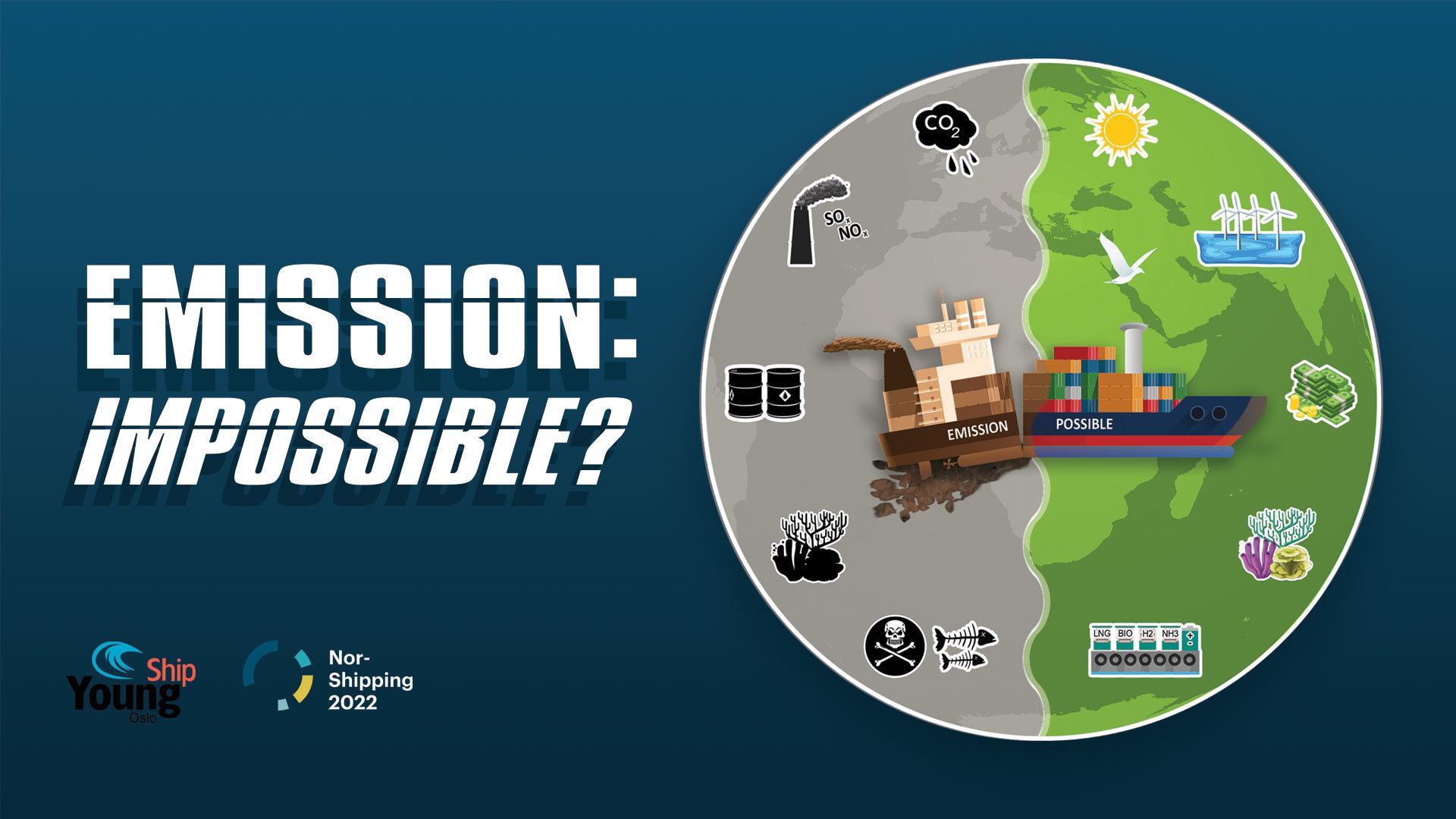 The Decarbonisation Challenge
With tightening emissions regulations and an extremely volatile oil market, lifecycle vessel fuel cost has become one of the most significant factors when calculating fleet transportation cost.
With that in mind, ship owners, ship managers and charterers are looking at ways to reduce fuel consumption, reduce GHG emissions and improve vessel efficiency, wherever they can.
By preventing the establishment of marine bio-fouling just on propellers, Sonihull systems can address over 30% of a vessel's potential efficiency losses. This immediately reduces fuel consumption, reduces GHG emissions, removes the requirement for specialist cleaning/polishing schedules and reduces operator costs. In larger vessels, the return on investment (ROI) is seen in a matter of weeks, just in fuel savings alone. Now that fuel costs are soaring, the ROI period is even shorter.
How it works
Sonihull's system delivers targeted ultrasound pulses ranging from 19.5kHz to 55kHz via robust transducers that are bonded to the dry side of the surface being protected.
For good propeller coverage, transducers can be mounted on Stern Tube Flanges and on Intermediate Bearings.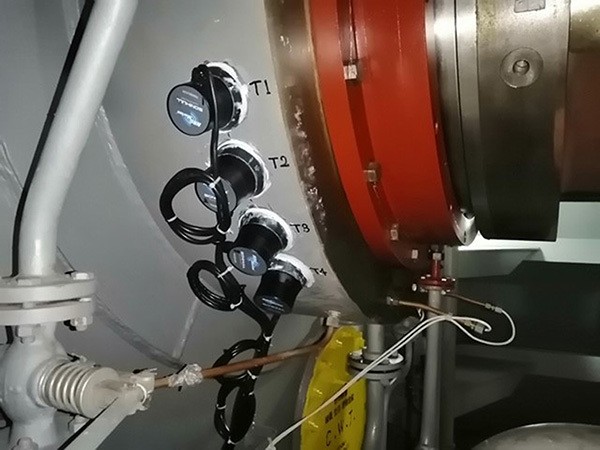 Where the protected surface touches seawater, microscopic ultrasound-induced non-inertial cavitation disrupts the formation of a biofilm and is proven to prevent the adhesion of juvenile barnacles, mussels and other hard fouling, without any surface or coating damage. Sonihull is also safe for use will all grades of oil and grease and is beyond the audible spectrum of marine mammals and fish.
Removing bio-fouling from propellers
Propeller bio-fouling is an unavoidable problem. In certain water conditions, it can start to establish within days, especially during delays or periods of in-water layup. Bio-fouling is usually removed with high-pressure cleaning in drydock. Propellers can also be polished underwater by specialist diving teams.
Both solutions are temporary and further cleaning or underwater polishing can be required after about three months. This cycle of progressively worse performance between cleaning, creates a saw-tooth effect in vessel efficiency.
The time and cost of the cleaning can be further compounded by the need to provide clean-and-capture solutions in regions where invasive species need to be contained.
A fit-and-forget Sonihull system uses the power of ultrasound to keep your propeller clean between drydocking. Maintaining clean propeller performance between drydocks without divers or polishing regimes.
Sonihull's mission is to deliver environmentally safe, cost effective antifouling wherever unwanted bio-fouling persists. Our vision is:
To make dosing the oceans with poisonous biocides and microplastics a thing of the past
To deliver effective antifouling systems using the power of ultrasound
To save the oceans, one ship at a time