Introduction:
At Sonihull, we are committed to providing innovative solutions for the maritime industry to tackle the persistent problem of biofouling. Today, we are excited to share the success story of MV Orihime, a bulk carrier from Japan, which experienced significant cost savings and improved efficiency through the installation of our Sonihull 8 Ultrasonic System. Let's delve into the details and explore the remarkable results achieved by our cutting-edge technology.
The Challenge:
MV Orihime, a 330-metre bulk carrier with a deadweight tonnage of 250,950, faced a recurring issue of biofouling on its propeller. This problem not only resulted in expensive consumables but also required costly remedial works, leading to increased downtime and maintenance expenses. The vessel needed an effective solution to overcome these challenges and optimise its performance.
The Sonihull Solution:
To combat the persistent bio-fouling problem, we installed the Sonihull 8 system on the stern tube of MV Orihime. The system was secured using eight pipe adapters, and our dedicated Sonihull Team performed a Specialist Install, retrofitting the system to ensure seamless integration. This installation took place in the first quarter of 2020, marking the beginning of a transformative journey for the vessel.
Remarkable Results:
The results obtained from the implementation of the Sonihull 8 Ultrasonic System on MV Orihime speak volumes about the effectiveness and efficiency of our solution. Within just five months, the system paid for itself through substantial savings in consumables, reduced downtime, and minimised cleaning costs.
What's even more impressive is that the Sonihull 8 system has maintained a clean propeller for three and a half years, effectively eliminating weeds, barnacles, and mussels. This uninterrupted performance has enabled MV Orihime to achieve and maintain optimum efficiency while significantly reducing its overall running costs.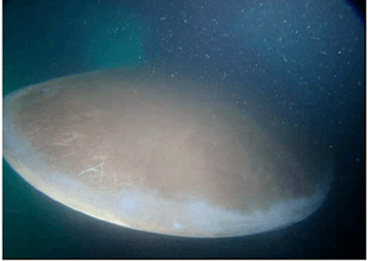 Conclusion:
MV Orihime's story highlights the unparalleled benefits that Sonihull Ultrasonic Antifouling brings to the maritime industry. Our cutting-edge technology not only eliminates biofouling but also delivers substantial cost savings and enhanced operational efficiency. By choosing Sonihull, vessel owners and operators can safeguard their investments, maximise performance, and contribute to a more sustainable maritime ecosystem.
Are you ready to experience the transformative power of Sonihull Ultrasonic Antifouling? Get in touch with our team today and discover how tackling biofouling can improve performance and provide cost savings for your vessel.
Sonihull's mission is to deliver environmentally safe, cost effective antifouling wherever unwanted bio-fouling persists. Our vision is:
To make dosing the oceans with poisonous biocides and microplastics a thing of the past
To deliver effective antifouling systems using the power of ultrasound
To save the oceans, one ship at a time