Wijnne Barends, the Netherlands' oldest active shipping company, has chosen the Sonihull ultrasonic antifouling system to protect two of its vessels. The ships, Lady Ariette and Lady Anne Beau are both 88m long 2,544 GT general cargo ships that were built in 2016 at GS Yard.
Five transducers were bonded onto the box-coolers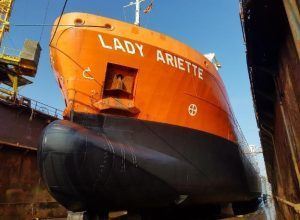 During scheduled drydocking in late 2018, both vessels had their box coolers cleaned and had their impressed-current antifouling systems replaced by Sonihull8 systems. The Wijnne Barends installation was undertaken by Lamers System Care, Sonihull's distributor in the Netherlands.
On both vessels, five transducers were bonded onto the box-coolers and three transducers onto the seachests. The ultrasonic protection will keep the heat exchangers clear of weeds, barnacles and mussels and ensure that optimum cooling performance is maintained for the vessels' main equipment.
Its unlike any other antifouling system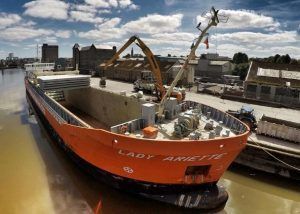 "Compared to impressed current antifouling systems, Sonihull can save as much as 95% of capex and lifetime MRO costs," says Dominic Findlow, Technical Director for Sonihull. "There are no expensive anodes to replace and no specialist fitting is required. The box-cooler's pressure vessel does not need to be drilled, so there are also no added re-surveying and testing costs for Classification Society documentation." "The systems are also environmentally sound," continues Findlow. "Unlike other antifouling systems, Sonihull releases no poisonous toxins, no metallic compounds are leached out into the seawater and they consume as little as 3.6 Watts per transducer."
Amazing Results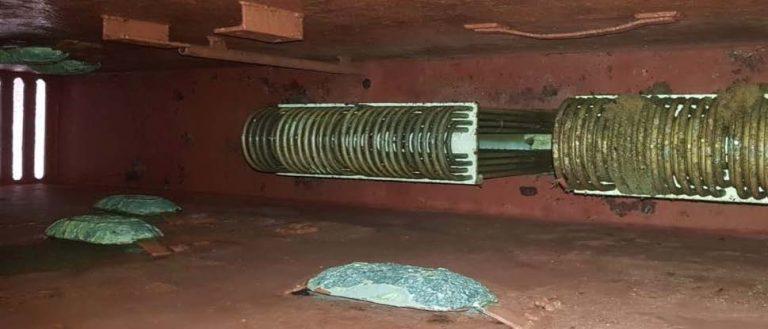 Typical results after twelve months of service in a box cooler installation are shown above. Photographed from the bottom of a sea chest looking upwards, the red surfaces visible in the photo below are the sides and top of the sea-chest with the seawater inlet visible to the left. All of these surfaces have been kept weed and barnacle-free by two Sonihull ultrasound transducers. A third transducer was mounted on the water cover of the left-hand box cooler which also remains clear of any fouling. The right-hand box cooler was not fitted with a transducer and has fouled-up considerably.
Sonihull's mission is to deliver environmentally safe, cost effective antifouling wherever unwanted bio-fouling persists. Our vision is:
To make dosing the oceans with poisonous biocides and microplastics a thing of the past
To deliver effective antifouling systems using the power of ultrasound
To save the oceans, one ship at a time